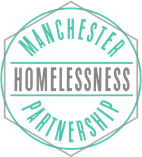 Manchester
Homelessness Partnership
Co-producing solutions to end homelessness
What is the Manchester Homelessness Partnership?
The Manchester Homelessness Partnership (MHP) unites people with personal experience of homelessness with organisations from different sectors, to co-produce solutions together to end homelessness.
A bit about our history – The MHP formed in 2016, in response to growing concerns about high levels of visible rough sleepers in Manchester city centre, and indicators showing that all forms of homelessness were on the rise across Manchester at a rate which was higher than the national average. There was a recognition that more needed to be done to address homelessness in Manchester – but we also needed to change the way in which it's done.
After a series of events and workshops, the Manchester Homelessness Partnership was formed, bringing together cross-sector organisations and people who have experienced homelessness, to tackle homelessness in Manchester.
In 2022, the MHP was relaunched after the COVID-19 pandemic, celebrating the successes of the Partnership so far, while also recognising that we need to continue working together and adapting our response to end homelessness in Manchester.
At the heart of the Partnership are our Charter values and the Actions Groups which tackle specific challenges that people who are homeless may face. Each group includes people who have experienced the topic in question, as well as other relevant organisations. Most of our work is done voluntarily by the fantastic people in our network.
We have a Board of representatives from different perspectives of our city which meets to use its collective influence to remove systemic blockages.
Part of the 'glue' that holds our network together is our MHP Network and Communications Facilitator, a post hosted by Macc and funded by MCC and the Covid Recovery Fund via Young Manchester. The MHP is supported by the Street Support Network, including through this website.
We are also linked into the Greater Manchester Homelessness Action Network.
Who's involved?
The Manchester Homelessness Partnership currently works with the following organisations:
Charity & voluntary: Booth Centre, Barnabus, Coffee4Craig, Lifeshare, Mustard Tree, Greater Together Manchester, Justlife, Riverside, MASH, Manchester Women's Aid, Shelter, Street Support, Collaborative Women, Reach Out to the Community, Business In The Community, GMIAU, Boaz Trust, Real Change MCR, Migrant Destitution Fund, Cornerstones, The Edge, On The Out…
Statutory: Department for Work and Pensions, Greater Manchester Combined Authority, Greater Manchester Police, Manchester City Council - including MCC Commissioning, Rough Sleeper Team and MCC Work and Skills, NHS, Riverside Housing, Urban Village Medical Practice, Manchester Metropolitan University, The University of Manchester…
Business: Adept Corporate Services, Allied London, Arndale, Barclays, Bruntwood, CityCo, HSBC, Laing O'Rourke, Lloyds Banking Group, Radical Recruit…
And many more local organisations and dedicated individuals!
How to get involved:
There are many ways in which you can contribute to the aims of the Partnership: